During the late 70's into  the early 80's, one of my favourite comicbooks was Captain Canuck.  Captain Canuck was a Canadian creation (surprise!) originally published by Comely comics.  The character was the creation of Richard comely, who wrote and drew the comic for the first four or so issues before handing over the art chores to artist George Freeman.  The comic seemed to really hit it's stride after Freeman took over on the art.  Sadly, the series was canceled around issue 14 or 15 due to low sales.  The series was revived by Comely in the mid-90's, but Freeman was not involved in the revival and despite reading the first few issues, I just couldn't get into it like I had all those years before: I guess you can't always relive the glory days of your childhood hobbies.  Sometimes, but mot always.
So where is this all leading?  To something very cool.
A few weeks ago, my local comic book shop (lcbs) received a shipment of Captain Canuck T-shirts left over from the 1990's, a shipment which was supplied to them by Comely himself.  What was even cooler, was that at least a couple of them were a decent enough fit for me, so I left the shop with one of them in  my hot little fanboy hands!  The image on the shirt had Captain Canuck running forward under his own logo; I had the choice of going for the image on  either a white or black T and opted to go with the black one.  I think that I chose well, and by looking at the image below, you can decide for yourself.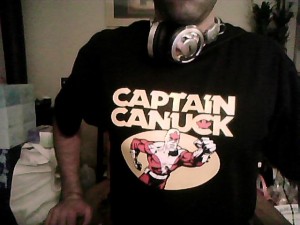 Now I will have something new to wear the next time I visit the local comic book convention and blend in with all of the other comic nerds. Snap!
Stephen