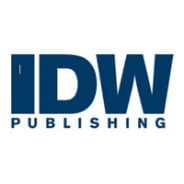 IDW is a smaller comicbook publisher – well, compared to Marvel, DC and maybe even Image, but they have acquired the comic publishing rights to quite a few big name franchises, such as (in no particular order) Star Trek, G.I. Joe, Doctor Who, 30 Days of Night and the Transformers. By all accounts, IDW has done a good job of supplying the fans of these franchises with enjoyable stories to consume and that word of mouth has led to even more people wanting to read these stories after the single comic issues have come and gone and the hard covers and the trade paperbacks have taken their place on the shelves of their local comic book stores and larger chain bookstores. So at this point it is clear that IDW has gotten the DEMAND part of the equation right: they have produced quality content that has been well received and led to word of mouth that has led to more people wanting to read the stuff once it is collected and published as a graphic novel. However, there is another part of the whole supply and demand cycle that they seem to be having at least a little bit of difficulty with. What I am talking about here is the SUPPLY side of the equation; Last Fall I started hearing something from others and also started noticing it myself, that with a disturbing level of predictability, IDW was having some issues keeping some of its books in print at both comics shops and at many other  mainstream retail outlets (i.e. bookstores). One of the first examples of this that came to my attention was with the GI Joe trades. As of last Fall there was already a whole slew of GI JOE related trades on the market including a series of books called the Classic GI Joe collection that reprinted the original Marvel Comics issues of the series from the 1980's.  At the time there was already at least 7 books in this reprint collection and I noticed that at any given time it seemed that at least one of the books in the series would be out of stock and unavailable for order. Of course as with anything else, when something is out of stock and there is still any significant unmet demand for it, this can be reflected in the price for said item on the secondary market. In the case of these GI Joe books, the prices for them on Amazon and Ebay started to rise to reflect this, and boy did they rise! Various issues of this series of books started to fetch prices well over the $50 level – and this for books that had just recently been released. And there was no other alternatives for getting these out of stock books if they were already sold out at your local stores. It seemed that there was something of a carnival carousel effect for these books: no sooner had one book hit a high price online then a month later it dropped down and was replaced by demand for another book in the series. This whole thing seemed kooky crazy considering it was involving a relatively new series of graphic novels which could go back to press at any time, but whatever. I figured that soon enough all of this craziness would go away.
Well, the craziness did move on but not away from IDW's books. The next broken supply and demand cycle that came to my attention was for a couple of the IDW Transformer books based on the Transformers Animated cartoon series. In both 2009 and 2010, IDW released single books spotlighting the cartoon called the Transformers Animated All-Spark Almanac. By last Fall, barely a year after the 2009 edition of the book had been released and maybe six months or so after the 2010 edition of the book had come out, both editions of the book were out of stock from IDW and going for outrageous prices on both Amazon.com and Amazon.ca (the Canadian amazon site that even many Canadians don't realize exists). It was not unusual to see copies of the 2009 book going for well over $100 and the 2010 book flirting with the $100 level on the reseller market! $100 for a book that was not even a year old! Well of course now both of those Transformers books are widely available again at retail which is what should be the case considering that IDW never really came out and said anything about either book being out of print. Of course it might be the case that they figured since the cartoon they were based on had been cancelled that the demand for both would die off. Nope, definitely not the case, and IDW realized that they still had a license to print money.
Honestly, I would likely not even be thinking about all of this right now if the above examples had just been aberrations but no such luck. Early this year I noticed that the first book of the Transformers: IDW Collection series of Hardcovers which had just come out a few months before was already starting to show signs of this familiar pattern of shortages; A local LCS owner told me when I enquired about the book that it was not currently showing as available immediately to order and would have to go on back-order if I wanted it. I told him to go ahead with ordering a copy of it for me and a few months later it showed up. (I had actually almost forgot about it when it finally arrived in store) Whatever, I figured that since it was a hardcover it might just be in less supply at the outset until demand could be met on it. What do I know? Well, I know this: the supply of Transformers IDW Collection books is starting to dry up again and its possible that the boys at the IDW theme park will have to start warming up the engines on the supply and demand carousel again. The certainty of the uncertainty of the supply of their books is just, well, it's just amazing. It's not like we are talking about some five or ten year old Batman graphic novel here, no, we are talking about books that are scarcely a year old and already facing a shortage of supply to fulfill the demand for them. At a time when most publishers are trying to find ways to keep sales at certain levels, it must be a refreshing problem for IDW to be facing to be trying to find a way to keep their product in supply and on the shelves of a comicshop or a bookstore near you.
*BTW, just out of curiosity, you should consider heading over to IDW's homepage and browse their online store catalog to see just how many of their book are currently out of stock. Remember those All Spark Almanacs I mentioned? Yep, out of stock. How about those GI Joe Classics books? Yep, almost a third of them are – say it with me – out of stock. Even the first two of the Transformers: IDW Collection hardcovers are out of stock from the publisher.
I can hear the carousel music playing from here.