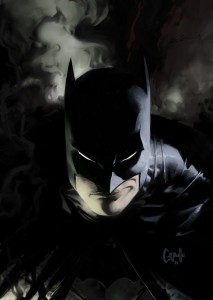 So its been a while since I threw anything up on this blog and it was in danger of going another year with nothing posted except pictures of whatever I bring back from next year's Emerald city Comicon – a very real possibility since it seems that my last two posts were post-ECC art haul posts, one form 2013 and the other from 2014! Ugh.
Okay so what am I offering up here? Well, since I am still paying for my comicbook addiction by selling graphic novels on Amazon, I figured I could share some of the knowledge I have gleaned from my past sales.
Without further ado I offer up a list of a dozen Batman graphic novels (all paperbacks) that you might find sitting on the shelves of your local LCS or at a table during a local comicbook show that are all books you should be able to flip for at least double your money on the big ole Amazon. If you find these books for below cover then of course that's even better!
Flippable Batman TPBs*:
Batman: Strange Apparitions
Batman: Scarecrow Tales
The Batman Chronicles (various volumes)
Batman vs Predator
Batman: Snow
Batman: The Cat and the Bat
Batman: Detective
Batman-Dracula: Red Rain
Batman: Four of a Kind
Batman: Blind Justice
Batman: Thrillkiller
Batman in the Seventies
*Of course I offer up to the reader this caveat: always check current prices on Amazon for the books mentioned here since they can and do fluctuate. A barcode scanner app bundled with an Amazon search app on your smartphone makes this a breeze. (I know that they exist for Android phones because I have one that I use regularly)