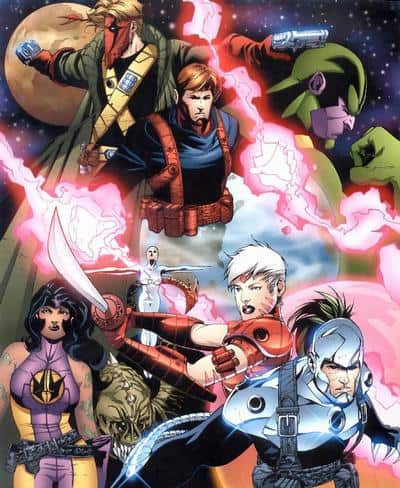 The above post title is in no way making a hyped declaration of things to come.  I don't know Jim Lee and he doesn't know me from Adam, and I have heard nothing from anybody that would be a confirmation of any future plans from DC for a relaunch of a Wildcats title in 2011. However, I have looked through the list of 52 titles scheduled to be released by DC in the Fall and two of them caught my attention because of how they both sounded a lot like a reboot of the title characters. Two of the upcoming books, Grifter and Voodoo, are books featuring members of the Wildcats team but the descriptions for each title sound like they are treating the characters as loners who are not involved with any team and who do not have any sense of who the  Daemonites are (the evil alien race of shape shifters that brought the Wildcats together in the first place).
Just to help prove my point, here are the solicitations for each book:
GRIFTER #1
Written by NATHAN EDMONDSON
Art by CAFU
Cover by CAFU and BIT
The DCU's most wanted man stars in his own series! Cole Cash is a
charming grifter few can resist. And yet he's about to be branded a serial killer when he begins hunting and exterminating inhuman creatures hidden in human form – creatures only he can see! Can the biggest sweet talker of all time talk his way out of this one when even his brother thinks he's gone over the edge?
VOODOO #1
Written by RON MARZ
Art and cover by SAMI BASRI
Who is Voodoo? Is she hero, villain – or both? Learn the truth about Priscilla Kitaen as she leaves a trail of violence across America. Discover the new DCU through her eyes, because the things she sees are not always what they seem…
If that is the case and these characters are going to be portrayed as pre-wildcats operatives, then it is only playing the DC house odds that at some point in the near future there would be some plans in effect to bring the team together again for a new wildcats book (maybe this time with some other members from the established DCU) and that there might even be some hopes of having Jim Lee onboard at the early stages, seeing as how he is about to become more hands on with the DC books – well, at least with the Justice League, anyway.
Just consider this as my loud vote for seeing a Jim Lee involved Wildcats title somewhere down the road that makes my post seem like uncanny prophecy…